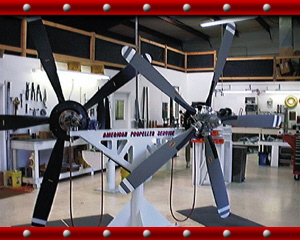 Propellers

Founded in 1976, AMERICAN PROPELLER SERVICE started business with a new concept; update the standard of propeller servicing with new state-of-the-art technology and prototype tooling and equipment.
First, a highly advanced vertical Propeller Test Stand was engineered and built, the only one in the world. Next, a Blade Grinding Machine surpassed all methods of grinding blades in the past. The accuracy and efficiency of this equipment alone, led to more prototype machines, fixtures and equipment. AMERICAN PROPELLER SERVICE, in less than one year started its future of advanced technology.
Today, over 30 years later, AMERICAN PROPELLER is the leader in the industry utilizing the most sophisticated equipment available such as the Aero Scan Blade Measuring Machine.

Highly qualified technicians with years of specialized training offer a full-line of propeller services and capabilities ranging from repairs and overhauls, exchanges, new sales, STC options (over 400 options to choose from) and technical support for all leading manufacturers, including McCauley, Hartzell, MT-Propeller, Aero Composites, Sensenich, Hamilton Standard, Whirl Wind, Warp Drive and Dowty.
No matter how large or small the customer's needs, from Piper Cubs, Beech King Air's to DC-3's, AMERICAN PROPELLER offers the fastest turn-times and highest customer service ratings in the industry today.
For the customer who wants to stand out from the crowd, AMERICAN PROPELLER SERVICE is the pioneer of DESIGNER☆PROP; the custom designing and painting of your own propeller to enhance your aircraft's unique paint scheme. Specialty DESIGNER☆PROP Blades are also available which are great for gifts, promotional displays, retirements, etc.